Rev. Agani Marsco Julius, Bishop/Pastor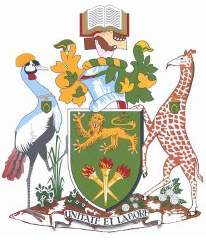 Affiliated Christian Martial Arts Dojo/Church in Nairobi, Kenya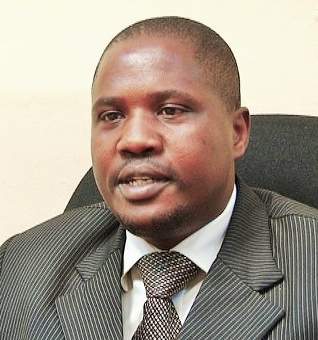 Rev. Agani Marsco Julius
Bishop/Pastor and Executive Vice President of Restoration of Grace Fellowship International in Nairobi Kenya
Director of Yeshua-Do Int'l for Kenya
Rev. Agani Marsco Julius was born in Nyamira county, Nyamira District Southern part of Kenya around 800kms from Nairobi city. He finished high school in 1994 from Kabartegan High school in Kericho County and later joined Shanzu Teachers Training college in Mombasa county in 1996 to 1998 and obtained P1 equivalent to Diploma , he is currently pursuing Bachelor of Education (ARTS) Degree in University of Nairobi. He has a Honorary Doctoral Degree in theology from Message From Above Bible institute (MFA Bible institute) based in U.S.A hence is referred as Rev. Dr. Agani M. Julius, he is studying a theology degree in Gospel Assembly International seminary and Bible school based in Iowa U.S.A. He founded Children Angels of God project in 2001 in which he is the founder/C.E.O in which he aims to rescue the vulnerable children who were not going to school by providing education as a tool of giving them hope of success as this included counseling and pastoral care, the tool for the support is his gospel music which he released and sold to raise funds, he is a gospel music composer, writer and singer. He also has The Agani Julius Music store and distribution network for selling music, and he is the Founder/C.E.O of States High School which offers secondary education to vulnerable and needy students, he is also the founder and Director of African Child at Risk Network in which he's bringing together organizations working with unfortunate vulnerable children to work hand in hand with available resources, he is the founder of Deliverance International Centre church whose HQ is in Nairobi since 2001 and has several branches across Africa, he is the Executive Vice President of Restoration of Grace Fellowship International and continental Bishop of Africa whose aim is to unite different preachers/churches/denominations in a warm fellowship of reaching and encouraging one another, he is a member of Anchor Bay Evangelistic Association and a member Congregational Bible Churches.
And finally Rev. Agani Marsco Julius is a Director of Yeshua-Do Int'l for Kenya.
CONTACT:
P.O BOX 56967-00200 CITY SQUARE NAIROBI KENYA EAST AFRICA.
EMAIL: juliagani@yahoo.com,
TEL:+254 716 701 524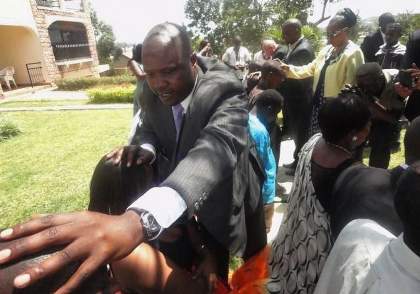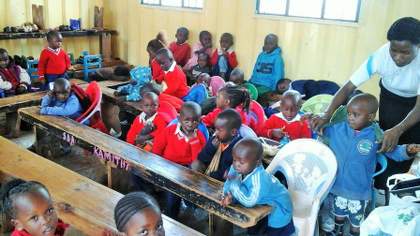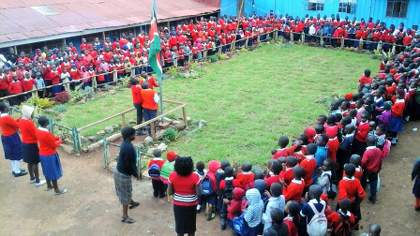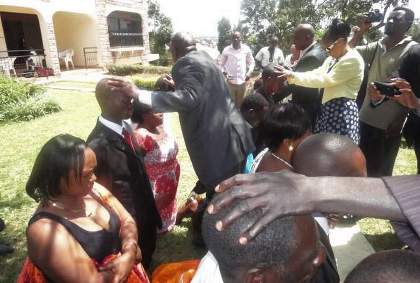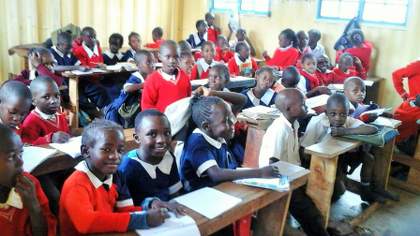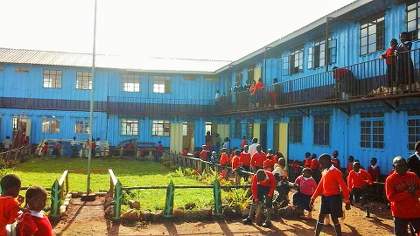 Membership & Rank in Martial Arts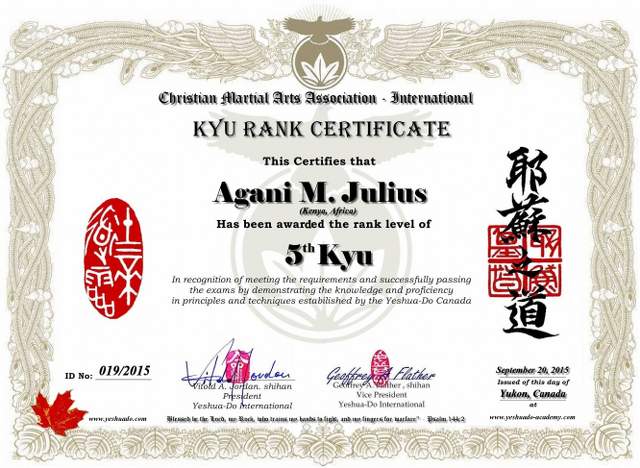 Blessed be the Lord, my Rock, who trains my hands to fight, and my fingers for warfare"
- Psalm 144:2