General Etiquette And Conduct
"Respect, righteousness, compassion, and honesty are the foundation
of the true Martial Art".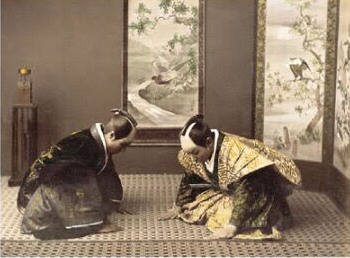 1. PLEASE BE PUNCTUAL
If you are unavoidably late, and the warm-ups are still in progress, quickly stand at the edge of the mats and WAIT until you are noticed and acknowledged before joining the warm-ups. If the class is already in session, perform a warm-up of your own off the mats, then follow the steps above.

2. LEAVING THE MATS DURING CLASS
Always let the Sensei know if you need to leave the mats.

3. ALWAYS BE ALERT WHILE ON THE MATS
Careless practice is dangerous and can cause injury. Always be aware of your surroundings.

4. BE ATTENTIVE
The proper way to sit during class is in seiza, the formal Japanese sitting posture. A cross-legged sitting position isacceptable if seiza becomes too uncomfortable. In any case, an attentive posture should be maintained at all times. Students should not slouch, lean against walls or sit with legs outstretched.

5. DO NOT TEACH FELLOW STUDENTS
Unless specifically asked to do so by the Sensei. If you need help during class, discreetly ask the instructor for his/her instruction.

6. FOLLOW THE TEACHER'S INSTRUCTIONS
For reasons of safety, respect and courtesy, it is essential that the teacher's instructions be followed exactly. Many Bu-Jutsu (Yeshua-Do) techniques can be dangerous if not practice properly.

7. PRACTICE AT A SAFE PACE
Be sensitive to the physical limitations and experience level of your partner and never perform any exercise which you feel is too dangerous for your current physical or technical ability.

8. KEEP CONVERSATION TO A MINIMUM
In Bu-Jutsu (Yeshua-Do), like in other traditional martial arts, learning with the eyes and body is emphasized. Help each other by following the technique with the appropriate body movements rather than with words. If it is necessary to speak, do so in a low voice.

9. DO NOT WEAR JEWELERY DURING PRACTICE

10. DO NOT WEAR FOOTWEAR ON THE MATS (tatami)
To help prevent dirt from being brought onto the training surface, please wear some kind of footwear when not on the mats.

11. PERSONAL HYGIENE
Cleanliness is a reflection of your attitude toward Bu-Jutsu (Yeshua-Do), your teacher and your fellow practitioners. Please keep your fingernails and toenails clean and short. Keep your uniform clean and wash it regularly.

12. IF YOU BECOME SICK, OVERTIRED OR INJURED
If you become unable to continue practice, let your partner know. INFORM THE SENSEI before leaving the mats. If you just need a short rest, move to the edge of the mats and sit quietly watching until you are ready to resume practice.

13. SPECIFIC MEDICAL PROBLEMS
If you have medical condition or previous injury that may affect your practice, notify the Sensei ofthis before class starts.

"Blessed be the Lord, my Rock, who trains my hands to fight, and my fingers for warfare"
- Psalm 144